Led to 442% increase in viewership of Enthusiast's 'Gameumentary' series Q1 2019 over Q1 2018
'Shirley Curry: The Gaming Grandma' is 18th documentary filmed and produced by Enthusiast and already has over 2.5 million minutes of watch time
Enthusiast working on three more documentaries this year with plans for more in 2020
TORONTO, Ontario, April 24, 2019 – Enthusiast Gaming Holdings Inc. (TSXV: EGLX) (OTCQB: EGHIF), ("Enthusiast" or the "Company") is excited to announce the recent premier of its video game documentary titled, "Shirley Curry: The Gaming Grandma". The documentary has already received over 300,000 views and 2.5 million minutes of watch time since its mid-April launch. Nick Calandra served as Director and Omar Ahmed as Producer for the documentary which was released under the 'Gameumentary' label owned by Enthusiast.
The documentary explores the popularity rise of Shirley Curry, the 83-year-old grandmother, celebrity gamer, and streaming sensation who has earned the nickname "Skyrim Grandma" for her videos about The Elder Scrolls V: Skyrim. The Gaming Grandma started playing video games in 2014, and has built a loyal fanbase of over 558,000 subscribers on YouTube.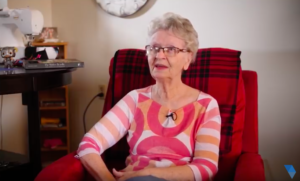 Watch 'Shirley Curry: The Gaming Grandma'  documentary above
"The Gaming Grandma" reflects the new reality of the gaming community as the demographics within the industry have broadened significantly in recent years. Gaming is becoming a hobby for everyone and age is becoming less relevant. A recent study highlighted that 20% of all gamers in the US are now between the ages of 36 to 49 and 23% of all gamers in the US are over 50 years old(1). Enthusiast's platform and significant network provides communities for gaming enthusiasts of all ages and located all over the world.
Nick Calandra, Founder and Director of Content for Gameumentary commented, "Since being acquired by Enthusiast in June 2018, Gameumentary has seen significant growth. We have launched 18 gaming documentaries worldwide since 2017, and most recently, the Gaming Grandma which already has over 300,000 views. Our documentaries and short films are meant to tell the stories behind the games and its fans, and the support and partnership with Enthusiast enables us to continue producing content."
Enthusiast acquired Gameumentary in June 2018, as a property focused on telling the stories behind video games and the communities that play them, through long-form and short documentaries. Gameumentary has already produced 18 documentaries and with the support and management of Enthusiast, has traveled around the world from Los Angeles to Seattle, Austin to Prague, Ghent to Amsterdam to find exciting content.
Since the acquisition, the company has seen substantial growth with an increase of 440% in views compared to the same period, Q1 2018. Gameumentary will continue its momentum with three more studio documentaries planned for 2019. The next major documentary will cover the Insurgency series by New World Interactive, expected to premiere this summer.
About Enthusiast Gaming
Founded in 2014, Enthusiast Gaming is the largest vertically integrated video game company and has the fastest-growing online community of video gamers. Through the Company's unique acquisition strategy, it has a platform of over 80 owned and affiliated websites and currently reaches over 75 million monthly visitors with its unique and curated content and over 50 million YouTube visitors. Enthusiast also owns and operates Canada's largest gaming expo, Enthusiast Gaming Live Expo, EGLX, (eglx.ca) with over 55,000 people attending in 2018. For more information on the Company, visit www.enthusiastgaming.com.
CONTACT INFORMATION:
Investor Relations:
Julia Becker
Head of Investor Relations & Marketing
[email protected]
(604) 785.0850
This news release contains certain statements that may constitute forward-looking information under applicable securities laws. All statements, other than those of historical fact, which address activities, events, outcomes, results, developments, performance or achievements that Enthusiast anticipates or expects may or will occur in the future (in whole or in part) should be considered forward-looking information. Such information may involve, but is not limited to, comments with respect to strategies, expectations, planned operations and future actions of the Company. Often, but not always, forward-looking information can be identified by the use of words such as "plans", "expects", "is expected", "budget", "scheduled", "estimates", "forecasts", "intends", "anticipates", or "believes" or variations (including negative variations) of such words and phrases, or statements formed in the future tense or indicating that certain actions, events or results "may", "could", "would", "might" or "will" (or other variations of the forgoing) be taken, occur, be achieved, or come to pass. Forward-looking information is based on currently available competitive, financial and economic data and operating plans, strategies or beliefs as of the date of this news release, but involve known and unknown risks, uncertainties, assumptions and other factors that may cause the actual results, performance or achievements of Enthusiast to be materially different from any future results, performance or achievements expressed or implied by the forward-looking information. Such factors may be based on information currently available to Enthusiast, including information obtained from third-party industry analysts and other third-party sources, and are based on management's current expectations or beliefs regarding future growth, results of operations, future capital (including the amount, nature and sources of funding thereof) and expenditures. Any and all forward-looking information contained in this press release is expressly qualified by this cautionary statement. Trading in the securities of the Company should be considered highly speculative.
Neither the TSX Venture Exchange nor its Regulation Services Provider (as that term is defined in the policies of the TSX Venture Exchange) accepts responsibility for the adequacy or accuracy of this release.
The securities of the Corporation have not been and will not be registered under the United States Securities Act of 1933, as amended and may not be offered or sold in the United States absent registration or an applicable exemption from the registration requirement. This press release shall not constitute an offer to sell or the solicitation of an offer to buy nor shall there be any sale of the securities in any jurisdiction in which such offer, solicitation or sale would be unlawful.