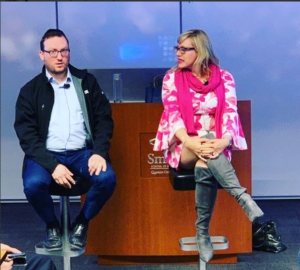 "We invested our blood, sweat and tears to make our company grow 10x"
This past week, our founder and CEO, Menashe Kestenbaum  joined Jess Jones, the Executive Director of York Angel Investors at Queens University and one of Enthusiast's early investors, Jess Joss, to talk about the emotions of investing. Here are some of the highlights from the conversation:
Why did Enthusiast gaming go public?
In Canada, if companies want to size and scale, the way we wanted to, you need public market support and institutional capital. We had the option of going the VC route but decided against it and listed on the TSX Venture Exchange (TSX.V). The public market allowed us to provide our shareholders, many who've supported our company since the very beginning, an option to realize some of the value of their investment. Since going public, we've grown exponentially, and opened sales offices across the world, engaged over 75M visitors on a monthly basis with 100 gaming communities, and 900 YouTube channels. We've even created Canada's largest Esports and gaming convention, EGLX, attracting 55,000 attendees last year. We've started making larger, more accretive M&A deals, and we've seen new opportunities for revenue generation which has led to the rapid growth of the company over the past couple years.
What is the most important part of fundraising?
The most important ingredient in fundraising is trust. I have tried to build this business on loyalty, trust and relationships, and so far, we've done a pretty good job.  Trust comes before "markets being hot", trust comes before a sound business model. Trust is the driving factor for success. Your whole job as a fundraiser is to build and maintain trust with investors and key stakeholders, and make people believe that you will be a safe custodian of their money. If you can do that, and deliver on results, and prove you DO what you SAY, people will support you.
What was the process of pitching to angels like?
Pitching the York Angels was one of my first opportunities to present Enthusiast and my vision of the company. It was scary at first, we went through the angel screening processes, and luckily, we were chosen to be one of three companies to pitch in front of 80+ angels from the York Angel Investors network. Prior to the pitch, I went into the washroom, jumped up and down to get the adrenaline pumping, knowing that this first round of institutional funding would play a critical role in the growth of the business. Thankfully I pitched well, and earned the support of over 50 angels.
The process over the next 3 months included, negotiations, due diligence, filings and lawyers.  I remember when the funds finally came in September 2016, I breathed a sigh of relief. The blood, sweat and tears I put into the company was paying off, and it felt good to know that people believed in me and my vision for Enthusiast.